Get the code that goes with the book
"I already bought the book…"
If you already bought a copy of Pure React, but you wish you had the code that came with the Complete Package, this is the place to be.
Get the solutions to all 26 exercises, as well as the source code for the examples throughout the book.
Since you already own Pure React, you need only pay the difference.
Just the Code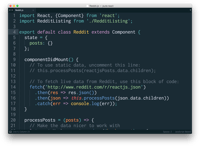 Exercise solutions
11 examples and 26 exercises